Black Kitchen Cabinets 
One color that stands out and makes a statement is black. With black kitchen cabinets, you'll upgrade your kitchen in a way that is both elegant and dramatic. Plus, while black is bold, it's also neutral too, making it an excellent choice for a wide range of different style kitchens.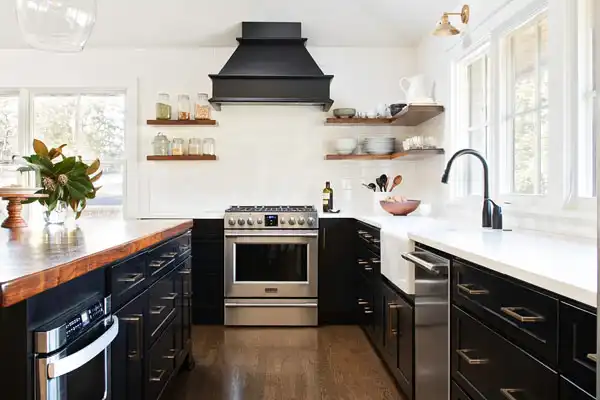 Why Choose Black Kitchen Cabinets?
If you're wondering whether black is the right pick for painting your kitchen cabinets, here are a few advantages to keep in mind.
Black feels luxurious.
Black is anything but bland. It looks rich and sophisticated, elevating your kitchen immediately. If you like a more formal kitchen, black certainly fits the bill and can be beautiful and refined. At the same time, even if your space is more relaxed, black kitchen cabinets can anchor it visually while adding a little flair.
Black hides dings and scratches.
Another advantage of black kitchen cabinets? It's excellent at hiding dirt, splatters, dings, and more. If you have a home filled with children and pets, then black can be the perfect choice. It will conceal far more than a light color, making life easier.
Black allows you to add pops of color.
Whether it's with artwork, dish towels, window treatments, or tablecloths, black offers contrast to any pops of color. These accessories will stand out in an appealing way while creating an eclectic look that further enhances your kitchen.
Black is warm and welcoming.
While black is bold and beautiful, it's also warm and welcoming. It will make your kitchen feel inviting, whether you want to create a rustic atmosphere or a more classic one.
Black is a perfect fit for larger kitchens.
Black can make a small, dark kitchen feel cramped. However, if you have a mid-size or larger kitchen or one with a lot of natural light, black is an excellent choice. It will complement a range of floor types, countertops, backsplash tiles, and more.
Get a Free Quote on Black Kitchen Cabinets!
Ready to paint it black? Let the team at N-Hance® help you get started. We can evaluate your space and walk you through options for cabinet paint colors, hardware, finishes, and even storage solutions. Let us bring your cabinets up several notches with black!
Call N-Hance today at (855) 642-6230 to set up a free consultation and quote.