Professional Cabinet Painting
Kitchen Cabinet Painting With N-Hance
Would you like to breathe new life into old cabinets – without breaking the bank? With custom cabinet painting from N-Hance®. We offer a simple, affordable solution, one that leads to beautiful results. Our stunning finishes are superior to typical painting processes, leaving no drips, no brush strokes, and a rock-hard finish that won't peel or chip like regular paint. We use proprietary products and processes to ensure the best finish for our customers. We can also complete the job in a matter of days, so there's not a lot of downtime to deal with or disruption to your busy life. N-Hance offers a color palette with the most popular, on-trend colors to choose from or if you have a specific color in mind, no problem! We can bring your vision to life no matter what color you desire.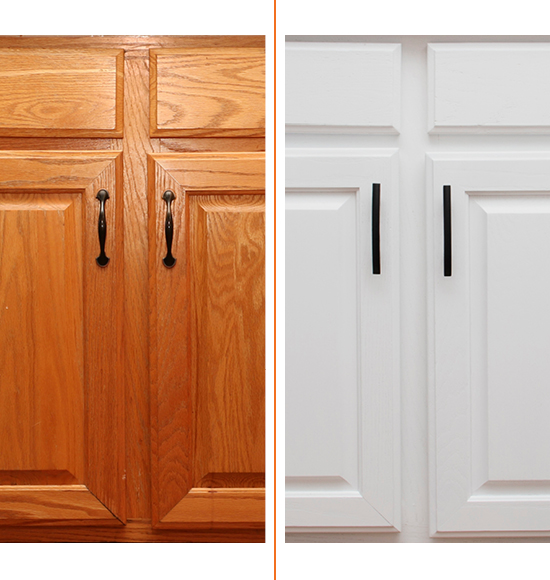 BeforeAfter
CHOOSE ANY COLOR YOU DESIRE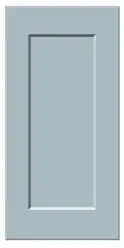 The N-Hance Color Palette offers colors ranging from fresh white to dramatic black. Or choose any color…and N-Hance will match it! Not sure of the color you want? Our team can help! Your local N-Hance will walk you through the process step-by-step. We'll talk to you about the size of your kitchen, the layout, the amount of natural light and other factors, so you make the right color decisions for your home. We'll even bring cabinet painting samples to your home to ensure you select the perfect finish.
Some of the custom techniques we offer to further personalize your cabinets include:
Glazed: Uses random distressing to showcase the details of your new cabinets and create farmhouse style charm
Antiqued: Produces an aged or worn look, so your new cabinets have more character
Torched: Creates depth and drama by adding a darker shade in the recessed parts of the cabinets
The N-Hance Advantage – How Our Custom Cabinet Painting Differs from Other Cabinet Painters
Why should you choose N-Hance for custom cabinet painting? Many cabinet painters will simply apply a couple of layers of paint and send you an invoice. At N-Hance, we take a better approach, one that's more meticulous.
Here are some of the advantages you will enjoy by choosing N-Hance.
Difference 1: Before any painting, N-Hance carefully cleans your cabinets with our special proprietary solution. Our cleaner thoroughly eliminates any dirt, oil, grime, and build-up that has accumulated on your cabinets over time. This step is often overlooked and is essential for quality. Any contaminates can create peeling and flaws in your final product. N-Hance ensures the best base for your color change by performing exceptional preparation.
Difference 2: N-Hance primer is specifically manufactured for cabinets. It is designed to block bleed-through of the old color and other possible imperfections. The primer helps your color better adhere to the surface of your cabinets for a more durable, longer-lasting solution.
Difference 3: Our products are made exclusively from water-based acrylic, polyurethane blends designed for cabinets. Most painters use latex paint designed for walls. N-Hance's product results in stronger adhesion that resists chips or peeling with a smoother finish.
Difference 4: Our Lightspeed® Nano system is used to instantly cure your cabinets. We bring the power of strong, factory-finishes into your home. This allows you to instantly begin using your cabinets. Your left with a stunning finish that is highly durable and longer-lasting than paint.
Watch this video to see more about N-Hance's superior processes and products!
Our unique approach means a faster turnaround – just a few days – with less wait-time and fewer VOCs than traditional cabinet painting methods. With custom cabinet painting from N-Hance, you can get a dramatic transformation in your kitchen, bathroom, or business in approximately five days. Not only is our process a quick yet quality solution, but it is also budget-friendly. Our approach to cabinet painting costs around 1/3rd of refacing and 1/5th of a full remodel. When you choose custom cabinet painting with N-Hance, you'll have more room left over in your budget to spend in other areas, whether it's adding a backsplash, refinishing your wood floors, or painting your walls a new color. You can achieve the style you want on a budget that works for you. If you're ready to make a big change to your cabinets, one that's easy and affordable, turn to our experienced team. Simply call N-Hance at (855) 642-6230 for more information about our custom cabinet painting and get a FREE estimate!