Cabinet Refinishing Services
Cabinet Refinishing Service
You love the beauty and integrity of your old kitchen cabinets, but after years and years of use, the finish has worn down, giving them a scuffed and shabby appearance. That's when it's time to call the experts at N-Hance®! Our cabinet refinishing services can restore your wood cabinets to like-new condition, with a lustrous, factory-like finish. N-Hance cabinet refinishing services will revitalize the look of your kitchen and extend the lifespan of your cabinets for years to come.
Even better, N-Hance cabinet refinishing services are faster, cleaner, and healthier for families compared to most traditional refinishing methods. Our refinishing process takes just a few days and produces minimal dust, odors, and VOCs. This makes us perfect for homes with young children, household pets, or family members with respiratory concerns.
To top it all off, N-Hance cabinet refinishing is highly affordable. Our refinishing services cost a fraction of what it would cost to recolor, reface, or restyle your kitchen cabinets, making us a budget-friendly alternative to traditional remodeling.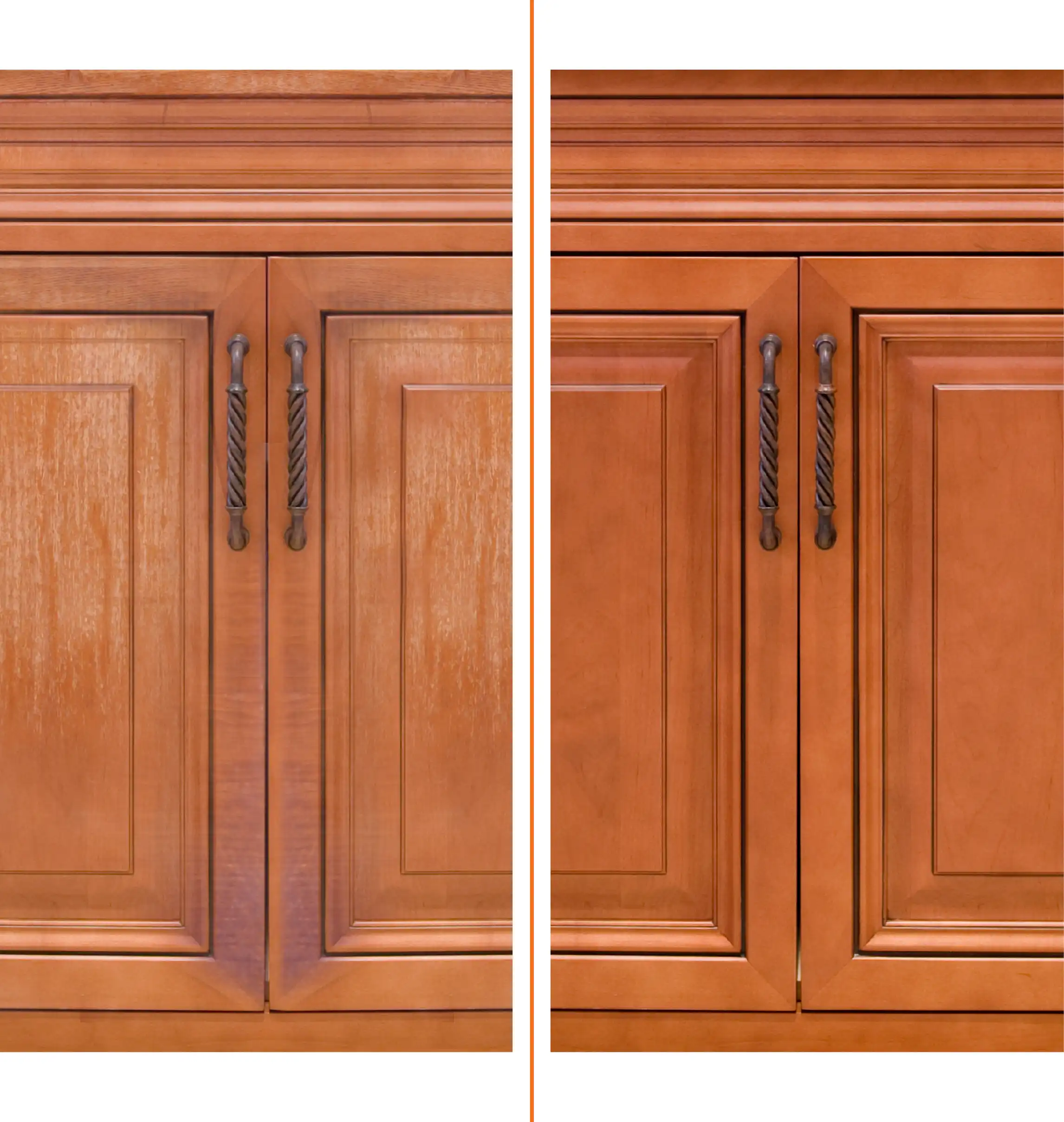 BeforeAfter
Advantages of N-Hance Cabinet Refinishing Services
N-Hance cabinet refinishing services are a convenient, affordable way to restore old kitchen cabinets to like-new condition. Our standard refinishing services require no change to the color or finish of your cabinets. Instead, we restore the wood to its original appearance.
Our refinishing process is performed by skilled craftsmen, using state-of-the-art refinishing methods and technologies. The N-Hance refinishing process involves minimal wear to wood surfaces, providing full restoration of kitchen and bathroom cabinets. We start by carefully cleaning your cabinets, removing dirt, grease, and other types of build-up. We then prime your cabinets to ensure proper adhesion, followed by application of your finishing solution.
Once the finish solution is applied, we use our Lightspeed® system to instantly cure your cabinet finish. Lightspeed® allows us to refinish cabinets in much less time than traditional refinishers. It also requires zero sanding, which ensures minimal mess. Our process also produces fewer VOCs making our cabinet refinishing services family-friendly and eco-friendly. Lightspeed® can achieve a matte, satin, semi-gloss, or gloss finish, and it is highly rated for its resistance to scratches, scuffs, and long-term wear.
Ready to learn more about N-Hance cabinet refinishing services? We have more than 500 locations across the United States, making it easy to connect with your local office, learn more about service availability and pricing, and schedule a free estimate.